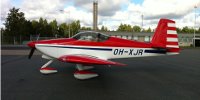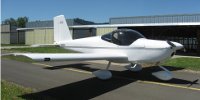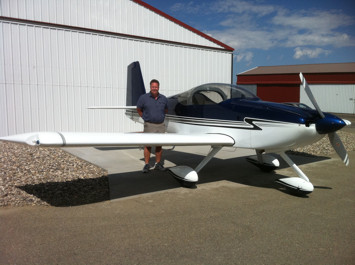 Have you considered that the most important training you will need in your life revolves around your personal aircraft? Do you really feel comfortable transitioning from your cessna or piper (or maybe no aircraft at all, you've just come off of a five year building process), into a fast mover like an RV without transition instruction?
Folks, professional pilots, and good general aviation pilots alike, understand that solid training benefits you and your investment in the RV of your dreams. Proper training provides a large measure of safety and confidence; an edge that you can count on in your own RV. Learning how the machine will perform during all aspects of the flight envelope with an experienced RV-CFII sitting right beside you, is money in the bank!
We provide quality dual instruction in RV Series airplanes, with you in the left seat. You are the PIC, but in an environment where a mentor takes you through the RV flight experience. I will share the tips that you need on everything from POH set-up to Slow Flight and Stalls, to Cross-Country RV flight.
Flying in the gorgeous Boise Area Valley, conditions are a dry, high desert climate, providing good VFR 250+ days a year. I generally fly off our home strip at KMAN (a 3-minute flight or 10-minute drive West of Boise) with RV clients, but we can arrange to train at many other airstrips in the valley close by. Everything from grass, to narrow or wide asphalt, to the Class C environment of Boise. You pick, just tell me what your needs are.
To get the most from your travel time here, I suggest that we fly a program/syllabus that I have designed in conjunction with the FAA, and approved by Van's. We'll not only make sure that you are insurance compliant, but that you are truly feeling confident and ready for your own machine. My syllabus involves approximately one hour of ground work (POH, landing diagrams, out-fitting the plane for you, panel review, pre-flight, etc) followed by Lesson One of flying for 2-2.5 hours, then Lunch, then Lesson Two of flying for approximately 2-2.5 hours. It is a very full, inclusive day. In fact, many of our RV'ers split it into two or more days. Some clients ask for even more time than the syllabus allows (due to the RV fun factor!) and some ask for an abbreviated version, either way we'll try to give you what you need in your window of time. Individual programs can be arranged as your flight profiles and time are important to me. You will be signed off as I feel you are ready and capable.
Most of the RV clients come from out of town and I suggest maybe taking a couple days to be in the area for any weather concerns. The Boise valley is a great place to fly for family vacation, while you train. Consider an extended stay, with our many attractions! Try any outdoor activities from rafting, to skiing, fly-fishing to wineries; the Boise area is ripe with shopping, dining, music and nightlife. Good places to start might include www.boise.org or www.visitsouthwestidaho.org or www.nampa.com
Chris has been involved with the building and flying of RV airplanes since 2003. Actively involved in EAA local and national, he enjoys helping other pilots and builders safely achieve their dreams of RV flight. "Whether they are building a new aircraft, or buying a "slightly used" model, RV's are exciting airplanes, and flying them requires a bit of extra knowledge, easily attained with good transitional dual instruction!"
Chris is based in the Boise, Idaho area, flying mainly off KMAN, and provides transition training for most of the RV series airplanes, including RV-6A, RV-7A, RV-8A, and RV-9A. He is self-employed, allowing for easy, flexible scheduling of dual instruction.
Instruction currently given in N585RV, a 180 hp, IFR, constant-speed, fuel-injected RV-7A. It has both, glass and round gauges, modern Garmin radios, and a 430 GPS. I can also help you with tips for your 430, 530, 650, 750, G3x, and Garmin portables, and BFR's can be arranged in conjunction with your training time here.
"Chris is a wonderful instructor and really made my first flights go well."
"I had a super time learning the specifics and subtleties of RV flight."
"Really fun two days with Chris at Kono! Learned a ton about RV flying."
"You can't spend better money than training for your RV flights with Chris at Let's Fly!"